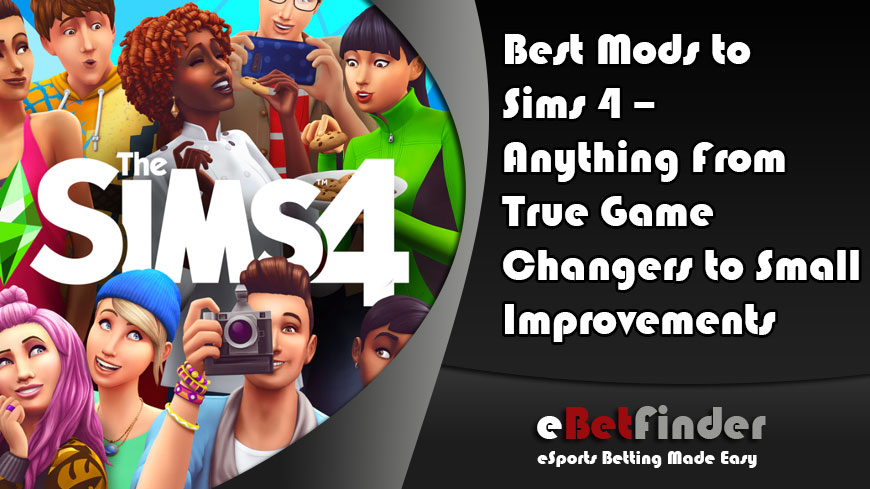 It's no secret that Sims 4 mods come in plenty. As a highly popular game with a very creative community, the gaming experience can be changed in a heap of different ways. There are probably hundreds of mods that I could mention in this article which are well worth a download; anything from a ton of additional jobs to never ending furniture and really cool outfits. The sheer amount of community made content that exists is simply amazing.
I can't mention everything that's great though so in this article I've tried to settle with what I believe are some of the best mods to Sims 4. Most likely I've missed some mods that should be included and you may not agree with everything that's listed either. But I can assure you that you will find a lot of really interesting stuff in this post. And I have of course provided download links to everything!
If you want additional mods or can't find what you're looking for, I suggest checking out a website known as modthesims. Much of what I have listed in this article is not included on that site, but it is in fact packed with all types of modifications and extra material to the game. Now with that being said, let's get started looking in to some of the best Sims 4 mods, beginning with the major ones.
Game Changing Sims 4 Mods
The mods listed below will all have a big impact on the game and substantially change it in one way or another. They include the following:
Enjoy Life as a Celebrity in Road of Fame
Have you ever dreamt of being incredibly famous and surrounded by paparazzis and groupies? Look no further. This enormous mod that is filled with a ton of stuff to explore and things do is exactly what you want. It's called Road to Fame and is easily one of the best Sims 4 mods to ever be created.
Record and release music and make live performances to earn money. Take up acting to appear in film shootings and become the next movie star. Show off your looks by modeling and enjoy photo-shots. Eat well and perform fitness activities to end up on the front cover of fashion magazines.
Watch your simstagram account get flooded with followers and kick-back in a celebrity trailer. Interact with other celebrities and hire bodyguards to take care of obsessed fans and paparazzis. Use a personal assistant to bring you food and fix your makeup. This plus much more is included!
The mod is of course quite similar to the Sims: Get Famous expansion, though this is 100% free.
Click here to download the mod
Looking for Extreme Violence?
Then you'll absolutely love this mod that goes by the same name. More than 25 ways to brutally slaughter are included, such as doing drive-bys with an UZI, ripping out the heart of someone and eating it up, slow-killing sims with a machete, throwing Molotov cocktails, doing backstabs, breaking necks and much more.
This is undoubtedly one of the best Sims 4 mods if you like blood and are a bit twisted. The mod also allows you to get in trouble with dangerous gangs or joining them in their ruthless actions, as well as turning the entire world of sims against each other. With a click of a button you can make everyone go on a killing spree.
Click here to download the mod
Be the Super Villain of Your Favorite Movies
Just finished binge watching the second season of The Boys and wonder what it would be like to be a super villain like Homelander? Quench your thoughts by downloading the Armageddon mod that allows you to learn mighty spells and play as a villain or super hero.
Complete quests that earn you powers that can be used for good or bad. Prevent helicopters from crashing to the ground and put a stop to serial killers, or aid crooks by helping them getting away with their crimes. Either way you get to meet your nemesis and indulge in godlike battles.
The mod includes several types of spells and supernatural walk styles that are very dramatic.
Click here to download the mod
The Best Sims 4 Mods for the Dirty Minded
Because we know that you love sex that much, there are two fantastic mods that we want to highlight here. One is called Hoe It Up and it's definitely worth the download if you can't get enough of sex. Alternatively it's also great if you've ever wondered what it's like working as a prostitute.
In this mod your sim will be able to sell its many sexual services, such as oral, anal and vaginal sex. Same gender encounters also include scissoring between females and two males performing the swordsman. To be able to get a good look of it all, you may want to install the no censor mod.
This dirty minded mod also comes with the option of opening up a strip club with all that entails. Up to 9 different strip pole dances can be unlocked that will earn you money in addition to your prostitution services.
Click here to download the mod
The other sex orientated Sims 4 mod that is very popular is Wicked Whims. With this you can indulge in unforgettable orgies with plenty of sims, use strap ons and witness thick layers of cum on yourself or your partners. If you're lonely you can also watch porn as an alternative to taking part in sexual encounters with others. A fan of cuckold? This mod supports it of course!
Be wary that Wicked Whims comes with sexually transferable diseases as well as pregnancy. There are condoms and birth control pills to be used though. The mod also allows you to create swinger clubs that are all about getting dirty. You can also practice exhibitionism and naturism, peep into windows like a freak and open up a strip club. There's a lot to do!
Click here to download the mod
The Zombie Apocalypse Is Here
Have you ever thought about combining the horrors of resident evil with Sims 4? Then this is the mod you are looking for! Kill zombies with shotguns, assault rifles and pistols, and cure Sims that have been infected by the vicious virus. Protect yourself with repellants and gas masks, and be prepared to take on the big boss of the apocalypse – Nemesis himself.
Rather be the monster than the hero? You go it! This mod allows you to play as a zombie too or even as Nemesis if you want to bring great destruction to the world of Sims.
Click here to download the mod
Become a Ninja and Assassinate Enemies
The Path of Legends mod allows you to become a katana wielding ninja or a fierce warrior equipped with a great sword. You take on quests received by Sims who want people they despise murdered and set out to assassinate these in change of money. Adding elements of RPG, you are able to level up weapon skills and learn additional attacks that are to be used for killing.
Click here to download the mod
Can't Have Too Much of Drama?
Then the Life's Drama mod will fit right up your alley. Bring life to your town with 11 dramatic situations that can occur. Experience couples break up, proposals, malicious gangs, sims caught cheating, troublesome kids, robberies and more.
As a compassionate being you can also help out sims and the community by giving relationship advice, supporting gay rights, standing up against racism and bullying, and more. Build trust with sims and they'll tell you their dirtiest secrets.
Click here to download the mod
Experience a Magical World in the Sims 4 become a sorcerer mod
As you may or may not already know, EA released a game pack known as Realm of Magic in 2019. While this magical pack filled with spell crafts and sorcery is costing money, many players think that this free mod known as Become a Sorcerer does the same thing but better.
This popular mod revolves around 10 reachable levels of black as well as white arts. There's an enormous number of spells to be learnt that impact the game in various ways. You can teleport yourself and other sims; change their outfits; make them slim or fat and turn them into minions that do your choirs or whatever you want.
You can also reset your age or even become immortal. Death is not a problem for anyone else either as a resurrection spell allows you to bring the dead back to life. If you're tired of walking, an alternative is to use a spell that makes you hover in the air. This is just a few things that you'll experience in the Become a Sorcerer mod.
Click here to download the mod
For All the Liberals, Hippies and Drug Lovers – Basemental Drug's!
The name is Basemental Drugs and it's without a doubt the best Sims 4 mod for those who would like to experience narcotics. With a lot of love put into the mod, the creator has aimed to make every drug interaction as realistic as possible. There are 12 drugs in total, including Cannabis, LSD, MDMA, Cocaine, Ayahuasca, Xanax among others.
You can either purchase the drugs from the dark web, create them yourself (such as growing cannabis), or getting in touch with a dealer on the street. Choose from several ways of digestion, such as smoking in a bong, joint, blunt, eating and vaporizing.
To make money you can deal drugs yourself and of course get in trouble with the long arm of the law if you don't manage to bribe them off. You can also end up in rehab and rip off customers by cutting amphetamine with a baby laxative. The mod is incredibly detailed with a bunch of different ways to interact.
Click here to download the mod
Re-Shape the Sims World as You Please in T.O.O.L (Takes object a lot) mod!
If appreciate building and decorating this is definitely the best Sims 4 mod that you can get. Known as T.O.O.L (takes objects of lot), this is a really cool mod that allows you to build however you want. Furniture and items can be placed in any way and they can be placed outside of your lot. You can, in other words, decorate the entire sims world the way you like. Put furniture in apartment halls, place rocket ships in the desert, set up an outdoor cinema – only the sky is the limit!
Medium Sized Sims 4 Mods
The mods listed here are basically all about making the game more realistic with more interactions and things to do. You could say that it's still the same Sims 4, but a better Sims 4. The mods include the following:
Best Sims 4 Mod if You're up for an Emotional Challenge with Meaningful Stories Mod
There are many small mods that can make the game more difficult, but one that is bigger and probably the best one out there is Meaningful Stories. This mod is all about making emotions smarter and more varied. It will be harder to get your sim in the emotional state that you want.
A sim can't just go from being super sad to being super happy. It has to experience the in-betweens as well. Happiness will also not be the default mode. The sim will also be more sensitive to things, such as small amounts of discomfort leading to more negative thoughts.
A sim can't just go from being super sad to being super happy. It has to experience the in-betweens as well. Happiness will also not be the default mode. The sim will also be more sensitive to things, such as small amounts of discomfort leading to more negative thoughts.
Click here to download the mod
Looking for More Realism? Try Sims 4 Slice of Life Mod
You got it! This mod, which is known as Slice of Life adds a ton of physical appearances to emotional reactions. For instance, eyes will tear up when a sim is sad; pimples will appear due to acne; you'll see gaps in the mouth when children lose their teeth and faces will blush when a sim is embarrassed or flirty.
This mod also brings womanhood to life with menstrual cycles. Yes, you heard me right – menstrual cycles in Sims 4. Adding to this, your sim is able to feel insecure about its body. There's also a memory system included that allows you to remember a lot of stuff such as being cheated on, having a pet die, peeing yourself and having your first kiss.
If you like this mod you may want to check out the small Ultrasound Scan mod as well.
Click here to download the mod
It's All About Romance in A Romantic Slow Dance Mod
If you're the emotional type looking for a way to get your sims more affectionate with each other, this is the perfect Sims 4 mod for you. It's known as Passionate Romance and comes with a bunch of romantic actions. This includes:
Snuggle animations (3)
Romantic hugs (5)
Kissing animations (3)
Romantic selfies (20)
On the same page where this mod can be downloaded you will also find two other mods that go great with it. A Romantic Slow Dance mod that allows sims to cheek to cheek dance and kiss, as well as Romantic Skygaze mod that allow sims to lie on the ground, snuggle and gaze at stars.
Click here to download the mod
Get Your Children the Best Education in the Education System Bundle mod
This is what this Education System Bundle of four different mods will do. Your toddlers will have a pre-school to attend to and a heap of new interactions will be available to use at all different school classes. Additionally, skills will be built at school and when doing homework. The mod also enables home schooling through a computer and doing the homework online.
Click here to download the mod
Turn Mindless Chat Into Actions with the Have Some Personality Mod
The main goal of this mod, known as Have Some Personality Please, was to make idle chat between sims more interesting and realistic. They won't just do nothing when having a conversation anymore, but instead they will interact with each other in a heap of different ways, making the game feel more alive. The interactions are based on their personality traits, mood and relationship. Sims will kiss, tell jokes and even be mean. An enemy to you could come and beat you up at any time.
Click here to download the mod
Small-Scale Sims 4 Mods
Last but not least we have mods that are very small in size, but are able to add great value to the game. These include the following:
Re-Size Your Sims 4 Characters with Height Sliders
Always dreamt of a tall boy-friend that could easily make a living in the NBA? No problem. With this mod, known as Height Sliders, you are able to change the height of your Sims 4 characters by simply dragging their feet. Bigger feet mean… no, not bigger dong… but a taller person!
Click here to download the mod
Remove All Types of Censoring
Want to watch it all? We don't blame you – so do a lot of players. In terms of popularity this is definitely one of the best mods for Sims 4, known as No Mosaic / Censor. It's very simple. Just install it and you won't be bothered by the censor / mosaic that appears when your sim is taking a shower, using the toilet, breastfeeding, etc. The mod also goes great with the mod Hoe It Up and Wicked Whims for obvious reasons.
Click here to download the mod
Visit the Gynecologist and use the Ultrasound Scan Mod
If you're all about realism and like the tiny little details, such as your sim getting a menstrual cycle, you probably want this Ultrasound Scan mod. When pregnant it allows you to visit a gynecologist to do an ultrasound and find out about the gender and number of babies you will have. It's a small mod but appreciated by many.
Click here to download the mod
Rework of Lifetime Aspirations
Are you one of many hardcore fans of the Sims-series that were disappointed about the aspirations in Sims 4? So was the creator of this mod. With this installed, aspirations no longer have multiple levels/goals, but just a single one which is more difficult to complete. It's not a guarantee that your sim will reach its lifetime aspiration. It will require hard work and a lot of age to your character. The mod makes the gameplay less one-minded as it encourages you to explore more areas of it.
Click here to download the mod
Add Bunk Beds to Your Bedroom
Who doesn't love bunk beds? They are perfect for kids and work well in small houses and rooms that are shared by many. Known as the That's What She Bed Mod, this one comes with 16 different bedroom pieces including eight different colored bunk beds and mattresses, as well as a small table, desk and chair that can be put under the bed. There's also a tiny toddler bed for babies!
Click here to download the mod
A Quick Word About Installing Mods
To round of this article about the best modifications to Sims 4, we want to mention that not all mods will work together with each other. If you mix mods that don't go along well you can experience a whole different game than what the mods were intended to create (in a negative way). If a mod isn't updated it may also stop working when EA releases a new patch to Sims 4.
We suggest that you read through installation notes and recent comments from users (if there are any) before downloading and installing a mod. With that being said, we wish you all the most fun experiencing a different Sims 4 that is better, livelier and in some cases a lot crazier!